How Dutch Flowers Fuel Valentine's Day
If you're planning to send flowers to your loved one this Valentine's Day, you aren't alone. Consumers around the world drive flower sales each February, with Americans spending an annual average of $13.29 billion on Valentine's Day stems alone. Considering Europe and North America import the majority of their cut flowers, with many coming from the Netherlands, you just might want to thank the Dutch for making your valentine feel special.
As the world's largest exporter of tulips, the Netherlands is an international horticulture leader, known for its expertise and innovation in producing and shipping flowers, plants and bulbs worldwide.
Source: FloraHolland
The Wall Street of Flowers
The cut flowers industry is one of the world's top horticulture industries, generating more than $100 billion in revenue each year. With a 60% share in the international trade of cut flowers, the Netherlands has become the unofficial "Wall Street" of flowers.
Strategically located next to Amsterdam Schiphol Airport, Royal FloraHolland is the world's largest trading floor for plants and flowers―the size of more than 220 football fields. More than 12 billion plants and flowers move through Royal FloraHolland each year. The international auction house also attracts more than 4,500 buyers worldwide, from destinations like Kenya, Israel, Ecuador, Belgium, Italy and the United Kingdom.
Need to place an express order? It's no problem for the Dutch. Royal FloraHolland trades and ships an average of 20 million flowers daily. Thanks to their efficient and highly-automated logistics network, the Dutch can make next-day deliveries to New York City's John F. Kennedy International Airport in less than 24 hours. Holland's Billion-Dollar Bulb Business
More than 1.7 billion tulips bloom across Holland every spring, displaying a patchwork of stunning color to the central European destination. Holland's famous "flower bulb region," known as the Bollenstreek, extends from Leiden to Haarlem and includes the majority of these blooms.
The region also hosts Keukenhof, which is one of the world's largest flower gardens, spanning nearly 80 acres. Planting an average of seven million flower bulbs each year, Keukenhof attracts more than 800,000 international visitors each year to its vast fields of artfully planted flowers.
The Netherlands is also home to the world's only floating flower market, Bloemenmarkt, located in the canals of Amsterdam.
Source: Global Cities Dialogue
Dutch Innovation Cultivates Success
In the Netherlands, Dutch companies, research institutions and the government work collaboratively to develop technologies that facilitate sustainable and efficient horticulture production year-round.
For example, Dutch greenhouses produce flowers on one of the largest scales in the world, spanning an area of more than 23 square miles in total. The Dutch have also become a leader in floating greenhouses, which allow for increased levels of production while simultaneously decreasing excessive land use and promoting conservation of water resources.
The Netherlands has even started repurposing retired tourist boats in Holland's famous canals as new venues for growing flowers.
Such innovations allow the Dutch to continue to serve as the "flower shop of the world" and claim responsibility for 65% of new plant varieties introduced into the European market each year.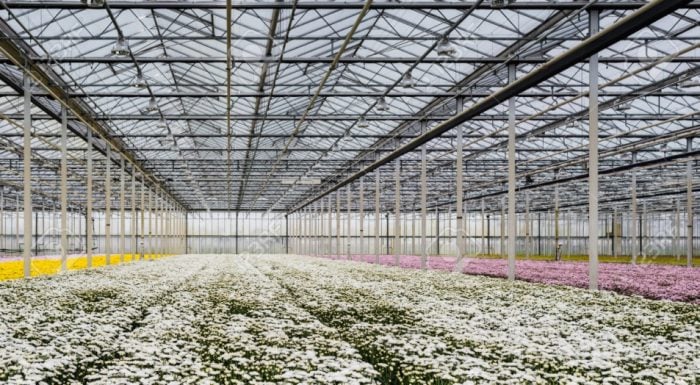 Source: dreamstime.com
Searching for the perfect pairing for your Dutch flowers? Try Dutch chocolates. The Netherlands has a thriving agrifood sector, which includes top multinational confectionary company, Mars. Operating in Veghel for more than 50 years, Mars currently employs a workforce of more than 1,200 to run the world's largest chocolate factory. Or, try Tony's Chocolonely—a Dutch-based brand with a social good mission to make 100% fair trade chocolate—which arrived in the U.S. last year. Sweet!
If you are interested in learning more about the Netherlands' top sectors or why global companies are going Dutch, we invite you to contact us for more information about expanding or relocating in the Netherlands.
14 February 2017