The Netherlands: Advancing Digital Health Care by Connecting People, Technology and Data
A dynamic innovation ecosystem and business climate drive digital health solutions
In an ever-digitizing world, digital health efforts in the Netherlands from homegrown and foreign companies and talent alike are helping to meet the needs of doctors and patients. As the world increasingly adapts to online health care, the technology and research needed to facilitate it is thriving here.
The digitally-connected Dutch life sciences and health ecosystem is already a role model with early adoption of digital health, a highly developed health information infrastructure, and efficiently digitized primary care. As the world looks to the future of medical treatment, the Netherlands offers a multi-pronged approach and resources to help make it a reality for all.
For international companies, the openness of Dutch innovation means it's very easy to work together in the field of digital health. And with such a strategic location, the Netherlands offers the perfect testing ground for new ideas before scaling them up to the rest of Europe and beyond.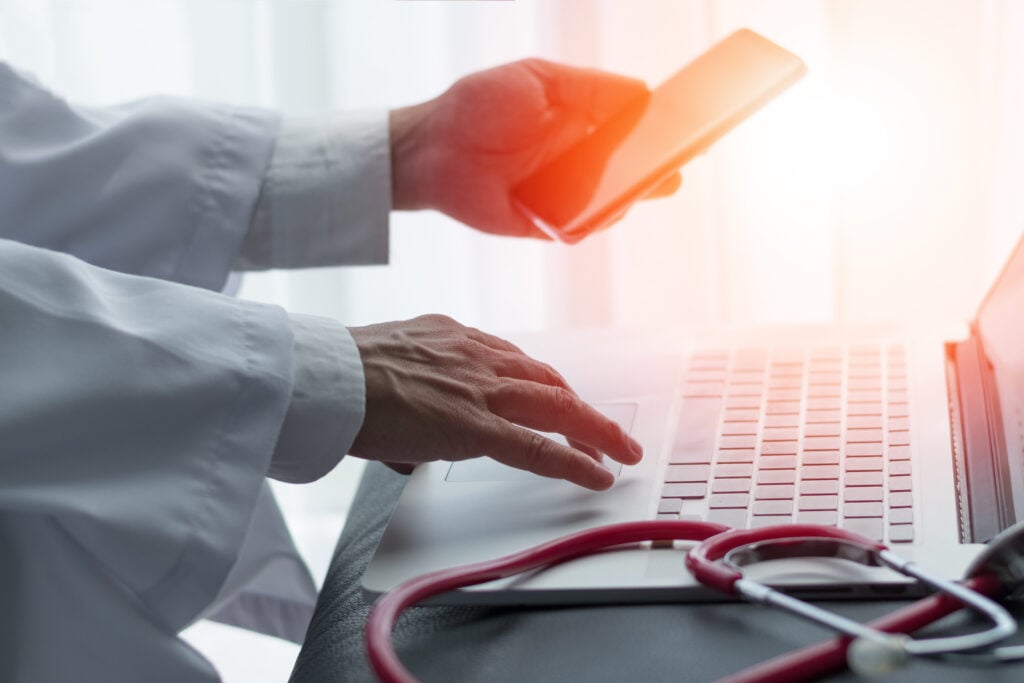 Cooperation at the heart of digital health
Companies eyeing expansion into the digital health care market can tap into the Dutch quadruple-helix cooperation between businesses, research institutions, government, and patients. This solid network creates a strong foundation for building digital health care solutions that will last and adapt into the future.
The Dutch government is investing and prioritizing telehealth for its citizens, setting the tone for the private sector to forge forward. Here, all parties work together. In particular, the Dutch government realizes the need for acceleration of digital solutions. The speed at which the Dutch government supports innovation paired with strong digital infrastructure and expertise from the Dutch health care system also means that ideas and solutions can be implemented in Europe and globally. That's a key reason why foreign companies invest in Holland. With diverse expertise all parties find better ways to innovate and scale from the Netherlands.
Public and private partnerships include Health-RI, an overarching national initiative to facilitate and stimulate an integrated health data infrastructure. This is accessible for researchers, the public, care providers, and BBMRI-NL, which makes it easier for health researchers to access data and bios samples which is critical to the work they are executing. Meanwhile, the Dutch Techcentre for Life Sciences coordinates partnerships to connect data infrastructures and the Dutch Life Science Database helps partners in biotech, pharma and medtech find each other. Other examples include the European '1+ Million Genomes' Initiative, which is securing access between genomics and clinical data to advance personalized treatment, and the String-of-Pearls Initiative, which is a partnership between all eight medical centers in the Netherlands and conducts a large cohort study.
A network of technology and expertise in the Netherlands
Companies looking to take advantage of Dutch innovation in digital health care have a host of consortiums that are eager to work together. The Confederation of Laboratories for Artificial Intelligence Research in Europe (CLAIRE) is an international network of scientists and industry researchers across Europe located in The Hague. As of 2020, the network includes 335 research groups from 34 countries.
Research into other areas of Dutch expertise, such as artificial intelligence (AI), comes to life at centers like Radboud AI for Health, where Radboud University and Radboud University Medical Center collaborate to create AI health care innovations. The Innovation Center for Artificial Intelligence (ICAI) aims to "keep the Netherlands at the forefront of knowledge and talent development in AI," by creating a collaborative ecosystem between companies, government and more.  There's also AbcdeSIM, an e-learning simulated emergency department with virtual patients developed by the Rotterdam-based company Virtual MedSchool. These innovations underscore how Dutch research focuses on practical applications.
Drilling deeper into tech, groups like OnePlanet Research Center connect engineering and data science specialists with production facilities for chip and nanotechnologies, research facilities, and a clinical environment to develop further innovations that can benefit health care companies establishing a presence in the Netherlands.
Having international companies grow and join these research ecosystems only means the ability to speed up and improve Dutch – and global – health care systems. Case in point, US-based RadNet acquired the AI-based oncology solutions of Netherlands-based Quantib and Aidence earlier this year.
Generating healthy data systems
A large part of digital health care relies on secure data systems, and the Netherlands excels at cybersecurity. The Hague Security Delta, for example, is a leader in cybersecurity innovation based right here in the Netherlands. Personal Health Train, established in the Netherlands in 2021, enables health care innovators and researchers to source health data. It gives controlled access to data while ensuring privacy regulations to optimize engagement with patients.
When it comes to patient's data, The Acceleration Programme for Patient and Professional Information Exchange – called VIPP – is streamlining how Dutch citizens can share their medical history. A host of different VIPP programs like VIPP 5 for medical specialists and audiological centers, InZicht for long term care, and VIPP GGZ for mental health care demonstrates the practical applications of these data security systems.
As health apps continue to become more prevalent for convenient and preventative patient care, Horizon Europe – the EU's funding program for research and innovation – also recently awarded the National eHealth Living Lab of the Leiden University Medical Center (LUMC) a grant to provide health apps with a quality label.
One of the benefits of an integrated, national health data infrastructure is that it goes beyond the immediate life sciences industry and adds to the innovation and knowledge exchange in the Netherlands. As such, the Ministries of Economic Affairs and Climate; Education, Culture and Science; and Health, Welfare and Sport have joined together with Health-RI to support digital health care solutions.
The result of this collaboration is that the foundation is already laid for safe data exchanges, and the Dutch are already building in it, making it convenient for foreign companies to leave their own impact.
Ahead of the pack: digital health success stories
Companies across the Netherlands – both homegrown and foreign – have already put their ideas forward to propose solutions to the challenges of digital health care. For example, Siemens Healthineers – of the German multinational conglomerate Siemens – has been creating the future of health care in the Netherlands since 1994. The South Korean company Lunit is advancing digital health through artificial intelligence and chose to invest in Holland thanks to the Netherlands' strong R&D and well-connected life sciences ecosystem. Other international companies including Belgian eHealth specialist Innovation Sprint and American company Asensus Surgical are also investing in Dutch innovation and networks to bring their digital health innovations to the world.
Meanwhile, local success stories include Best Doctors, a Teladoc company, which has entered a partnership with Dutch health insurer CZ to offer second opinions with international specialists. SkinVision, founded in Amsterdam in 2012, offers a global service allowing people to use a smartphone app to determine the risk of skin cancer.
The Netherlands offers companies within these solution-profiles a dynamic business climate, skilled talent, and efficient infrastructure to develop their services and products to advance digital health care.  The government recognizes this, classifying life sciences and health as a top sector in the country. Health~Holland is a driver of these efforts by stimulating multidisciplinary, innovative partnerships. With the support of NFIA and our many partners within the Invest in Holland network, international companies will find a fertile test ground to validate and scale-up within digitally mature hospitals that have progressive attitudes toward innovation.
If you are interested to be part of this ecosystem, contact us to learn more about how your digital health care business can benefit from expanding into Europe through the Netherlands.
23 June 2022