The Netherlands: a chemicals industry that blends sustainability with innovation
The Netherlands' chemical industry hosts 19 out of the 25 top chemical companies in the world, including Dow, LyondellBasell and BASF. It is not a surprise that so many chemical companies find their base in the Netherlands:
The Netherlands hosts more than 2,000 chemical companies and 19 of world's top 25 players
The Netherlands is part of Antwerp-Rotterdam-Rhein-Ruhr Area zone producing 30%-40% of Europe's chemicals
11 Dutch universities have well-advanced chemistry majors
Netherlands chemicals
We have a genuine and long-standing affinity for the chemicals industry, and more recently with sustainable chemistry. It is one of the reasons renowned chemicals companies such as Royal Shell, DOW, Avantium, Covestro, and DSM have chosen to call the Netherlands their home.
It is a business community that has inspired us, and challenged recent generations to use the Netherlands' convenient connectivity, global language skills, passion for sustainable development, and international mindset to push the boundaries of science and technology.
The heart of Europe's chemical industry
Chemicals companies here have exceptional reach and easy access to the European market. Our location puts 170m consumers within 500 km. In fact, there are over 2,000 chemical companies here, from leading foreign scale-ups like Recycling Technologies and Coolbrook, to 19 of the world's top 25 major chemical companies – with names like SABIC, Neste, Mitsui, and Teijin continuing to invest into their Dutch operations.
We are also in the center of the Antwerp-Rotterdam-Rhein-Ruhr Area (ARRRA) – one of the world's top 5 chemical clusters and responsible for 30%-40% of the European industry's total turnover.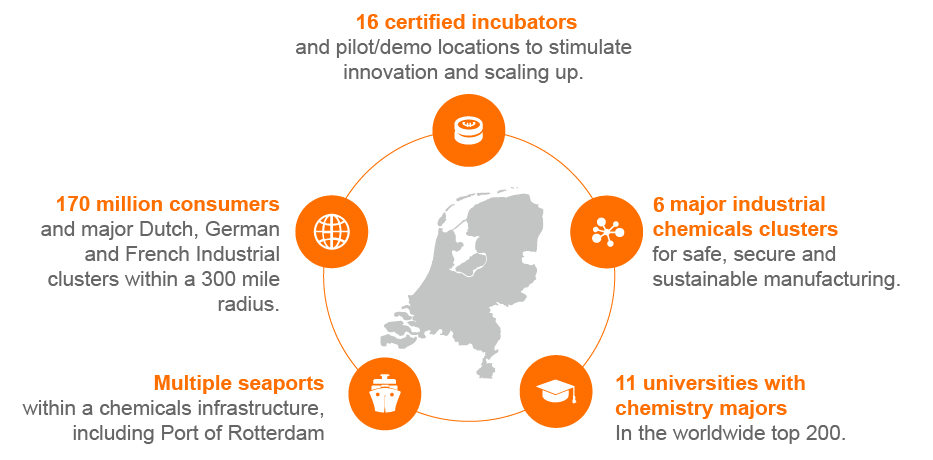 Ecosystem for collaborative research
Behind all this is an ecosystem designed to drive innovation. Our universities, iLabs, COCIs, and tax incentives stimulate R&D – together with a diverse selection of public-private partnerships (PPPs) that has built a strong reputation in sustainable processing, materials, electrochemistry, biobased, and novel chemicals.
Leading universities like Groningen, Nijmegen, TU Delft TU Eindhoven, and TU Twente all offer majors in Chemicals. There is also a cutting-edge research scene, with robust public-private R&D partnerships that support inter-company and public-private research, led by the likes of DSM, SABIC, AkzoNobel, Shell, Avantium, Corbion, and Arlanxeo – along with a vibrant community of innovative chemical startups and SMEs.
Public-private innovation
Overall, the Netherlands chemical industry spends more than 1 billion on R&D each year. And this is complemented by the government's active support for public-private consortia involved in chemical innovation, from the likes of Biorizon (biobased aromatics) to Voltachem (electro-chemistry) and Brightlands Materials Center (sustainable and lightweight materials).
The Advanced Research Center Chemical Building Blocks Consortium (sustainable molecules and catalysts) is also the official Dutch national chemical laboratory, where private and public partnerships work together on solutions for the future.
More broadly, all these organizations benefit from the excellent transport links that make operations simpler. On land, everything is close-by. And for global organizations, there are multiple seaports equipped for the chemical industry, including Eemshaven, Moerdijk, Zeeland Seaports and, of course, the famous Port of Rotterdam
Ambitious future
It is all here. 11 leading universities with chemistry majors. A community of more than 2,000 chemical companies – including 19 of the top 25 global players. A rich mix of pioneers, entrepreneurs and businesspeople focused on finding solutions that shape society's future.
Add the huge opportunities offered by an Antwerp-Rotterdam-Rhein-Ruhr Area zone which already produces 30%-40% of Europe's chemicals – and you have an ecosystem ready to support your goals, and open doors to the rest of Europe and beyond.