Chemical Recycling: Cracking the Code of Plastic
How companies are using the Netherlands to scale up their circular ambitions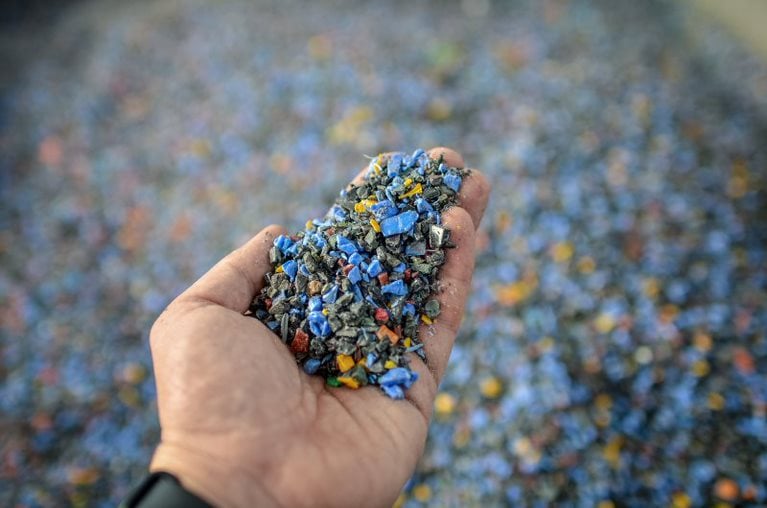 Plastic: it's durable, versatile and difficult to imagine a world without it. The positive uses of plastic are numerous. For example, it keeps our food preserved, insulates our houses and makes our products, cars, airplanes and buildings lighter. We also pay a huge price for using plastic, however, when considering its carbon footprint and its related pollution. Whilst the benefits of plastics are often taken for granted, the negative aspects give some consumers reason to think plastic is a harmful product. So, are there ways to improve the management of the plastic production life-cycle?
Plastic in a low carbon economy
The processes required to turn fossil fuel into plastic, including oil extraction, refining and the chemical processing, emit substantial amounts of CO2. After being used, plastics usually end up being burnt, emitting more CO2, or in landfill.
In a circular and low-carbon economy, this can be done better! Some of the oil used to produce plastics, for example, can be replaced by biofuels, reducing emissions. Our biggest transition, however, will be to efficiently re-use our plastic waste, rather than discard. And not just a fraction – all of it!
Green momentum: creative collaboration is the only sustainable way forward
These challenges are complex, and it's clear that the Netherlands' green economy ambitions will not be achieved by governments or industry acting alone. Nevertheless, both governments and industry have strengthened their recent climate commitments, signalling momentum for change. The European Union's Green Deal has been now been agreed, and the Dutch Government has committed to achieve a circular economy and reduce greenhouse gas emissions to zero by 2050. To that end, the country's environmental goals include reducing the use of primary raw materials and eliminating the incineration and landfill of plastic by 2030.
From leading in mechanical recycling to other sustainable solutions
The Netherlands is already among the leading countries in mechanical recycling of plastic waste. The country is ranked first worldwide for material reuse rate, first for waste management and second in food system sustainability. For example, mixed waste streams are generally incinerated for energy use (electricity and warmth), and not for landfill. It is a good start, but in terms of the country's ambitions to create a circular economy, and the Netherlands/European Green Deal, this is not enough.
Solutions are developing quickly in the Netherlands, thanks to collaboration between chemical companies, ambitious scale-ups, government bodies and research institutes. The Netherlands has proven that working collaboratively to find answers to sustainability questions works, both domestically and internationally.
In fact, there are a myriad of innovative developments across the sector. Besides mechanical recycling organizations, such VeoliaPolymers, QCP and recently the Canadian company Tyromer, many other chemical recycling initiatives are scaling up in the Netherlands. These include Dutch companies Ioniqa, Obbotec and CuRe, the Israelian UBQ, the British scale-ups in pyrolysis technologies Itero and Recycling Technologies, the European Horizon2020 initiative PolyStyreneLoop, and major gasification technology initiatives Furec (lead by RWE) and Waste2Chemicals (with Canadian technology scale-up Enerkem).

The Dutch chemistry network has all the ingredients in place
The Netherlands has long been a key player in the global chemical sector. While this sector might be more associated with emitting CO2, the Dutch are helping to show how it can be a key enabler of a circular and sustainable future.
To achieve this future, the Dutch chemical industry has all the right ingredients, encompassing the complete supply chain of the industry. From raw materials to production sites, the Netherlands is home to major international players, such as Royal Shell, DOW, Huntsman and AkzoNobel. These companies benefit from an excellent logistics infrastructure and easy access to the European market, given that 170 million consumers as well as the majority of the European chemicals industry are within a 500-kilometer radius.
Industry clusters like the Port of Rotterdam, Chemport, Smart Delta Resources and Chemelot bring the different players in the supply chain together and, together with the Dutch government's support, nurture the innovation leading to solutions to future challenges.
The chemical sector in the Netherlands is at the forefront of many innovative environmental processes. It also has the support of a bold government agenda that is working on a set of legislative, market incentive and financing interventions to facilitate a transition to a circular and climate neutral economy.
No one can overcome these environmental challenges alone, but together we can. Companies aiming to participate are welcomed with open arms to join.  The NFIA is always happy to hear from companies keen to explore opportunities in this field. Please do get in touch if you would like to explore opportunities in this area.
21 July 2021