The Netherlands' Location Is Where You Need It to Be
Proximity within Europe and to global markets is a win for foreign direct investment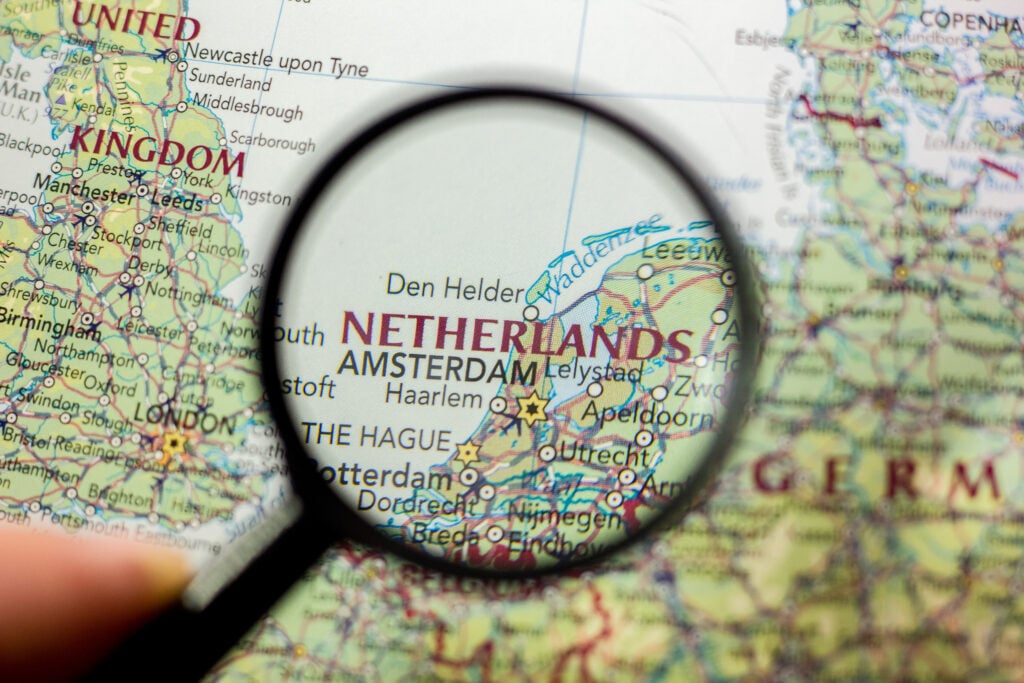 Point to the Netherlands' location on a map. Now guess how long it would take to fly from Amsterdam to Paris or Berlin. Two and a half hours? Maybe a little under two hours?
Try one hour and 15 minutes.
If you're surprised, you're not alone. Despite the Netherlands ranking as the second largest import and export destination in Europe, many international executives are not aware of the country's close proximity to major markets, customers, suppliers and talent.
While many people get away with only having a cursory knowledge of where we are, companies and executives looking to invest internationally will want to know exactly where we are. As the foundation of all the other benefits we tout about our country, its location in the middle of the European Union's single market is a prime reason for attracting international investments.
It's not only goods that benefit from entering EU's single market through the Netherlands. People, services and money can also move freely, with recognition guaranteeing any product being lawfully sold in one EU country can be sold in others, while EU citizens can study, live, shop, work and retire in any EU country – and enjoy products from all over Europe.
Gateway to Europe
North of Belgium, south of Norway and west of Germany, the Netherlands is a coastal nation set on the North Sea. Or, if you want another frame of reference: Look at the UK on a map and pan to the right. The Netherlands is right there, in the thick of business and cultural hubs and a short distance from other major cities like Berlin, Paris, Brussels and London.
We're not up in snowy Scandinavia, nor are we on the sunny shores of the Mediterranean. Instead, the Netherlands' location is in the heart of Europe, making it an effective entry point into the market. If you drew a 500 km (300 mile) radius around the Netherlands, you'd access 170 million consumers. Double that radius and you reach 244 million consumers – not to mention countless suppliers to meet all your production needs. The whole European market, encompassing 450 million consumers and 22.5 million small and medium-sized enterprises, is accessible within 24 hours.
This access to customers is a key reason why diverse international companies like Beyond Meat, TCI Biotech, Monster Group and Imagr all chose to set up shop in the Netherlands. Whether you sell plant-based burgers, skincare products, online merchandise or AI solutions, establishing a Dutch base will guarantee your products and services reach the right market.
Planes, trains and automobiles
The Netherlands boasts practical and efficient infrastructure for businesses. Distribution of products or delivery of raw materials are that much easier here thanks to top-ranked international airport Amsterdam Schiphol. It's no wonder that delivery giants like FedEx, UPS and DHL use it as a delivery hub for the continent.
Then there's Europe's largest and smartest port, in Rotterdam, which aims to be carbon neutral by 2050. It welcomes more than 30,000 vessels a year, feeding European manufacturing and distribution. It's one of a series of four different seaports that streamline the transportation process for manufacturers and distributors in the Netherlands.
In fact, the Netherlands' location also benefits companies looking to switch from external shipping to internal shipping through the Netherlands, such as a transshipment from China going to the hinterland in Germany.
Finally, while canals in Amsterdam may seem charming to tourists, more than 6,000 km of inland waterways in the Netherlands can accommodate ships up to 50 tons. We know how to move things in this country, no matter the mode of transport.
Nearly 140,000 km of roads and 7,000 km of railways pick up where planes and boats leave off, connecting the Netherlands and neighboring nations. Companies looking to invest internationally will want to have this sort of connectivity available to them, and the Netherlands location provides it.
For companies like Rangle, Nippon Express and Embraer, the desire to find a location with global connectivity led them naturally to the Netherlands. There's deep access to suppliers and strategic partners. "It's very central, very easy to fly to from Canada, and Schiphol is a very busy and well-serviced airport," notes Nick Van Weerdenburg, CEO of Toronto-based Rangle. "We wanted to be able to get around, so there's great connectivity with the rest of Europe with flights and trains. This gives us the footprint we need to do the business we do effectively across the globe."
Global reach
Yes, the Netherlands is in Western Europe, and it's a small country, but a center of operations here will benefit the most international of businesses. By working in a time zone that can cater to do business with both North and South American, and Asian cities, it creates less lag while doing business globally.
With ports and airports so accessible, the Netherlands' location also provides quick access to Africa, with close time zones as well, to further international efforts. If you're thinking big, the Netherlands is your best choice for achieving those goals.
With a workforce that can claim the highest English fluency of any nation for second-language speakers (according to the EF English Proficiency Index), the Netherlands provides essential elements for global reach. Educated and multilingual, the local – and expat – talent pool is a vital component to the success of businesses that invest here.
Companies such as Netflix, Splashtop and Agicap see the Netherlands as a gateway for recruiting highly-skilled talent from all across Europe. "The Netherlands is the Silicon Valley of Europe," says Alexander Draaijer, General Manager EMEA for Splashtop. "It's on the west coast of the continent and we knew it was a place where we could attract multinational talent, which is so important to the continued growth of our business."
Ready when you are
With so many location advantages for international businesses looking to expand in new markets, the Netherlands location is the place to be in Europe. Consider us your ticket to local, regional and global success. Our suggestion is… Let's go Dutch!
Contact your local Netherlands Foreign Investment Agency (NFIA) office to learn more about how our small, optimally-located country produces big results for businesses who choose to invest here.
9 September 2021