Invest in Holland 2022 Highlights: Global Business Expansions to the Netherlands
A selection of companies that chose to accelerate business to benefit people and the planet, from the Netherlands
In 2022, the Netherlands saw a continued pace of strategic foreign investments. Companies from all over the world chose the Netherlands as a place to innovate and build impactful solutions for the future. From life sciences to agrifood, there were many exciting announcements supported by the Invest in Holland Network.
In fact, the Netherlands is one of the advanced hubs for innovation, digitalization and sustainability. It's a dynamic country where you can connect and collaborate within international ecosystems to make vital progress. Innovations are happening across renewable energy, food security, healthy living, the circular economy, and more. Let's take a look at some of the noteworthy projects that took place in the Netherlands this year, by companies choosing to invest in Holland.
Satellogic: expanding global operations
Argentina-based satellite company Satellogic – which has operations in the U.S. and globally – expanded its presence in Europe through a state-of-the-art facility in the Netherlands. The company's new Dutch facility will accommodate its high-tech manufacturing, integration and testing equipment.
'Delft's reputation for space expertise and talent is world-renowned, as is Rotterdam's status as a global logistics hub and gateway to Europe,' said Gustav Wenhold, VP Manufacturing Operations at Satellogic. 'Both cities are just ten minutes away, allowing us to get the best of both worlds.'
ImmunoPrecise's centre of excellence
Canada-based biopharmaceutical company ImmunoPrecise relocated its IPA Europe Oss laboratories to a new biotech Centre of Excellence at the Pivot Park Campus in Oss, the Netherlands. The company has a strong presence in the Dutch life sciences & health ecosystem. Shortly before ImmunoPrecise opened its Centre of Excellence, the company also announced the move of its IPA Europe laboratories in Utrecht to the new Accelerator building at the Utrecht Science Park.
Modulr granted EMI license in the Netherlands
Fintech scale-up Modulr received an EMI license from the Dutch Central Bank. This license enables the digital payment platform to offer next generation payments for businesses throughout Europe. Now, the company is increasing its presence throughout Europe by offering innovative payment solutions that meet customer needs.
'We're incredibly excited to have been granted an EMI license by the DNB to operate in the Netherlands and across Europe as well as offering the platform's full spectrum of payment services,' said Myles Stephenson, CEO & Founder of Modulr. 'With a vibrant fintech scene, established professional services and a rich international talent pool, we chose Amsterdam as our commercial, operational and regulatory hub for accessing Europe. '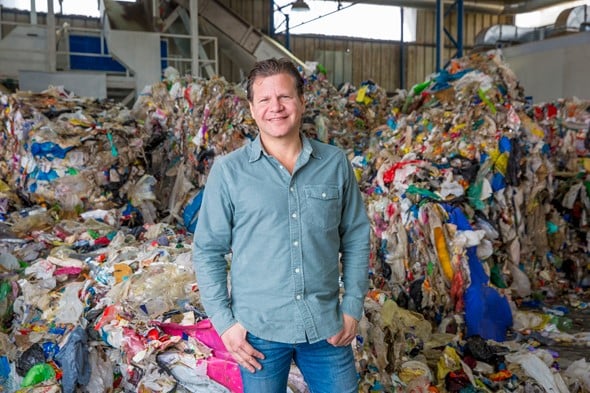 Cleantech company UBQ advances sustainable recycling solution
Israeli firm UBQ specializes in converting household waste into environmentally friendly raw material used for making plastic products. The company chose to bring its sustainable recycling solution to the Netherlands because of the country's strong commitment to sustainability initiatives across Europe, as well as its strong infrastructure that makes it easy for companies like UBQ to succeed.
NanoString Technologies fuels biological research from the Netherlands
American biotech company NanoString Technologies set up its EMEA headquarters and Customer Experience laboratory in Amsterdam. The company specializes in molecular diagnostics and genomics research.
'We are excited to open a new location, in the heart of Europe, with the most innovative technology and enhanced local support,' said Brad Gray, president and CEO of NanoString.
Plus One Robotics brings smart logistics robot solutions to the Netherlands and the world
U.S.-based Plus One Robotics opened its new European headquarters in Utrecht, the Netherlands. The company specializes in logistics robotics solutions.
Erik Nieves, CEO of Plus One Robotics, noted: 'There is an entire ecosystem of logistics technology in this part of the Netherlands.'
Plus One Robotics was drawn to Utrecht because of its vibrant start-up culture. The company also has access to top talent from nearby universities. Finally, Plus One Robotics advances its existing cooperation with US-based Locus Robotics, which opened its European headquarters in the Netherlands in 2021.
Gallium Semiconductor innovates next generation mobile communications solutions in the Dutch High-Tech ecosystem
Singaporean firm Gallium Semiconductor opened an R&D center in Nijmegen, the Netherlands. Gallium's mission is to develop next-generation mobile communication solutions. By opening this R&D center the company joins the Netherlands' high tech ecosystem. The company will connect with Dutch expertise and be centrally located to serve European customers.
Re-Teck expands recycling of electronics
Re-Teck is an innovator in reverse supply chain management and electronics recycling, committed to sustainability and circular economy principles. The company opened its third facility in the province of Brabant, the Netherlands. The company first established operations in the Netherlands in 2018. Ingrained in the Dutch high tech sector, the company helps manufacturers and importers of ICT products in the Netherlands and Europe, to re-use, recycle and re-purpose electronic devices and equipment.
Red Trident expands to the Netherlands, joins Security Delta (HSD) in The Hague
American IT company Red Trident expanded to the Security Delta (HSD), the heart of the Dutch security cluster and part of the greater Rotterdam-The Hague region. Subsequently, HSD announced Red Trident as a Premium Partner. This means the company gains access to market, knowledge, innovation, talent and capital, in turn partnering to help influence the cluster's direction.
Evreka revolutionizes waste management
Turkish company Evreka opened in the Netherlands at the High Tech Campus in Eindhoven. The company aims to provide 'Sustainability as a Service', working in collaboration with partners across the waste management chain in the Netherlands.
Airwallex joins innovative payment and finance hub in Amsterdam
Meanwhile, Australian fintech company Airwallex opened its European headquarters in Amsterdam.
'Opening an office in Amsterdam was an easy decision for us,' said Vivien Cheung, Director of Strategic Partnerships, EMEA at Airwallex. 'We knew we wanted a blend of a forward-thinking regulator, a cohort of equivalent companies and access to an impressive talent pool, specifically in payments and technology. Not to mention, Amsterdam's proximity and great gateway access to Europe for international businesses.'
The world's largest non-animal protein facility: ENOUGH
UK-based ENOUGH, a food tech company, opened the world's largest non-animal protein facility in the Netherlands. With this investment, ENOUGH seeks to further progress towards a sustainable food transition. The company provides alternative sources of protein that are both environmentally friendly and nutritious for consumers around the globe. In fact, the company's facility is co-located alongside the Cargill facility in Sas van Gent.
E Green Global's first European lab for sustainable food production
In addition, South Korean agrifood company E Green Global (EGG) chose Enschede, the Netherlands as its first European lab location. The company's seed potato lab will contribute to sustainable food production through research and development of new potato varieties for commercial agriculture use worldwide.
Shionogi opens European headquarters in connected Dutch Life Sciences & Health ecosystem
Japanese pharmaceutical company Shionogi opened its new European headquarters in Amsterdam, the Netherlands. This move will allow the company to advance medical treatments for the future of healthcare. With its expansion, Shionogi further strengthens its European capabilities through collaboration in the Dutch connected Life Sciences & Health ecosystem.
High-tech manufacturer Flavourtech opens pilot plant
Australian innovator Flavourtech opened a pilot plant at Wageningen University and Research (WUR). The company will accelerate food solutions within the Food Valley region and Dutch agrifood ecosystem.
ADASTEC joins the Automotive Campus in Helmond
U.S.-based ADASTEC joined the Automotive Campus in Helmond, the Netherlands this year. The company will accelerate automated driving technologies within the automotive ecosystem in the Netherlands by collaborating with OEMs, software providers and sensor companies.
Urban-gro expands in Rotterdam-The Hague, innovating agrifood solutions
U.S.-based urban-gro provides innovative solutions for commercial growers and cultivators who are looking for ways to increase their crop yield while still being sustainable and energy efficient. The company expanded to Rotterdam-The Hague to serve as its base of operations throughout Europe.
Coolbrook opens world's first electric naphtha cracker
Finnish-based Coolbrook opened its first electric naphtha cracker facility at the Brightlands Chemelot Campus in Geleen. The campus is an innovation ecosystem for R&D, including sustainability in the chemicals industry. From the Netherlands, Coolbrook aims to reduce air pollution by cutting down on carbon dioxide emissions from traditional fuel sources such as coal or oil used by other naphtha crackers across Europe by up to 95%.
Want to learn how your company can invest in Holland? We welcome international companies that contribute to make impactful change by working together. Check out any of our business operations or industry pages on the website, and contact us to discuss more.
20 December 2022